If you've updated your site to Ideakit 5.0 version (or some version above it) you will be able to add Amelia booking short codes via Gutenberg editor. Here's the quick explanation how you can do that.
First go to the Pages, choose "Add New" and in top right corner or below the page title you will see "+" ("Add Block") option. Once you click on this option you will have option to choose Amelia or you can write Amelia in the Search block.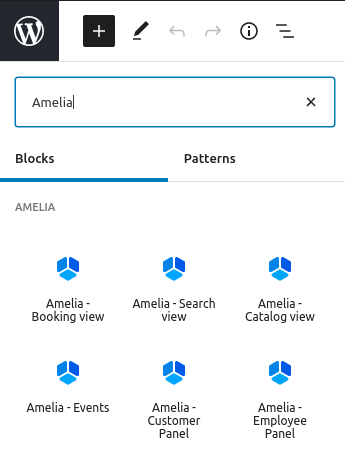 When you click on one of the options for displaying booking form, the short code will appear in the block. Depending on which form you have chosen in the menu on the right side you will see option to enable "Preselect Booking Parameters". This option you can use for Booking view, and Catalog view, when you want to create short code that will show booking for just one category, service, employee or location, or combination of it. When it is about Event's preselected booking parameters, from version 2.2 you can set up and show just one particular event with our without the recurring dates, or you can show the events that share the same tag added in the Events modal. For Search view there is only Today as preselected booking parameter, at the moment.
If you choose something in these fields you will notice that the short code is automatically changed.
When you finish preparing your Amelia short code click on "Publish" button to save your changes and publish the page.

After you publish the page you can view it by clicking on the View page button on the left side or by clicking on the URL link on the right side of the page.